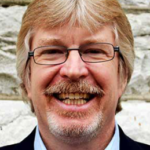 I'm going to put it out there up front: you're reading the words of a man who's wrestling with his emotions. There's a significant chance my eyes will leak before I'm finished writing this message, my final as executive director of Good Shepherd. I think that's perhaps the best indication of how deeply I love our mission, our ministry, and our people.
As many of you may know, I am leaving this week for a new position with another child- and family-serving agency – one that happens to be secular. It is an interesting transition, because leading Good Shepherd has given me the rare opportunity to unite my faith with the talents I've been given, to pray alongside the people with whom I work, to feel a sacred purpose in my daily life on a new level. What a profound gift it is to experience work as ministry!
Good Shepherd is a Catholic ministry, but in an important sense we minister to others whenever we commit to serving something bigger than ourselves, be that God, a church, the community, our team, or the people we love. I've had the privilege of seeing this giving spirit within each member of the Good Shepherd family. The people engaged in this work know the wear and tear it puts on their hearts, yet they continue to make sacrifices day in and day out for those we stand beside.
That commitment is the reason I know Good Shepherd is going to be perfectly fine long after my chair has been filled by someone new. It's because we're great at what we do. We do it in the right way and for the right reasons. We've worked together to solidify our financial resources to withstand even the most difficult of years, to reimagine our programs so that they're more relevant and serve more clients than ever before, and to create a culture that is strong enough to manage leadership changes on any level – including mine.
This agency has nearly 200 years of legacy behind it, and I am grateful to have placed a jewel or two in its crown during my time here. I'm excited to start my new challenge – one I feel called to answer – and also to continue cheering as Good Shepherd fulfills the dreams we've worked toward together. I pray this amazing team keeps dreaming. I pray they keep finding new ways to serve mothers and babies, families and communities, and I pray for countless blessings ahead.
Yours in Christ,
Michael P. Meehan, Ph.D.