April Showers Virtual Baby Shower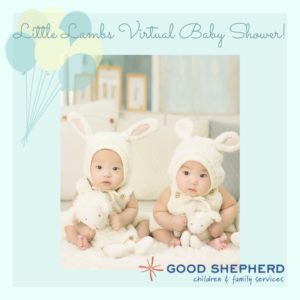 Spend a few minutes around a brand new baby, and instinct takes over: Our voices become softer, our breathing gets deeper, we move more gently. If you're like me, you're overcome with an irresistible urge to coo and make silly faces. There's nothing I can think of that so immediately takes us outside our daily lives and fills us with wonder than a new baby.
At Good Shepherd, we have the unique privilege of celebrating a lot of new babies. From welcoming the little ones who are born at our shelter, to helping stabilize a family in need as they bring an infant home, to placing a new baby with foster or adoptive parents… there's so much love and awe that comes with our work.
We created the April Showers online event a few years ago to share that joy with everyone who's a part of the Good Shepherd family. Your contributions are there with us as we deliver much-needed diapers to a parent who's feeling isolated and alone and watch her stress melt away. You're a part of the moment when a new mother returns to our shelter to find that everything her baby needs to keep them safe and healthy is here for her. You make it possible for foster families to focus on their main job of providing love – we'll help with the rest.
I invite you to participate in April Showers. Selecting items from our Target and Amazon registries, then having them delivered to our Good Shepherd offices, is an easy way to enjoy a closeness with our mission while staying safe. You'll make a concrete impact and help some folks who are desperately in need during this time of uncertainty.
Thank you for all you do to lift up Good Shepherd.
Wishing you health and happiness,
Michael P. Meehan, Ph.D.