Hoping to Adopt
Building your family through adoption is beautiful, rewarding, surprising, and at times complicated. We are here to empower and support you through the whole journey. Our compassionate staff will guide adoptive parents through the entire adoption process with clear communication, educational training, and support.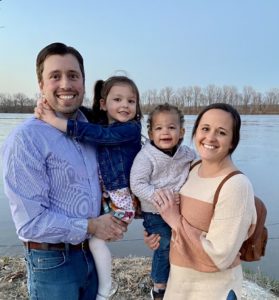 Contact Our Team to Get Started 
Speak with one of our caring Social Workers to get started! Together we can discuss adoption goals.
Call Our
Director of Adoption
to get started at:
 314-854-5711
Getting To Know You 
The intake interview with a licensed Social Worker is an opportunity to discuss and document your adoption plan, goals, and placement preferences. During this time, background checks are administered, your adoption profile is created, and you begin your journey to parenthood through adoption.
Adoptive Parenting Preparation 
Prepare yourself to become an adoptive parent with our virtual adoption courses.  We counsel through any questions and can recommend further training and resources to suit your adoption goals.
Home Study
Take part in a SAFE Home Study where individual and joint interviews are conducted during visits to the adoptive family's home.
A match is made based on several factors: birthparent(s) preferences along with adoptive parent's preferences. The birthparent(s) or the agency may determine the adoptive family based on the type of adoption. The adoptive family is provided with a birthparent scenario, which includes family, medical, and social history. The adoptive family then determines if they are comfortable moving forward. This may occur during a birthmother's pregnancy or after a child is born. 
48 hours after the birth of the child, birthparents can sign documents relinquishing their parental rights. We will help and guide you in this process and ensure birth parents are also given legal representation to understand adoption process.
Supervision of Placement
Following the placement of the child, Good Shepherd Adoption Service's Social Workers will make monthly visits to the adoptive family's home, finishing SAFE Home Study and supporting family through the legal adoption process. Social Workers check on the family to offer support and guidance and check on the wellbeing of the child.
Gotcha' Day
After completed home study and all qualifying court documents are collected, the final court date (usually 6+ months after placement) finalizes adoption for your child.