Mother's Day 2020: Mother Mary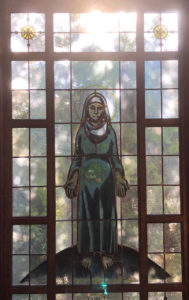 Happy Mother's Day! Here's a peek inside Good Shepherd that we don't often share – a prayer we recite at the opening of each board meeting:
Holy Mary – amidst fear and doubt you trusted God's call and became the mother of our Savior, Jesus Christ. I ask you to pray for Good Shepherd, a ministry named for your Son and dedicated to serving young mothers, children and families in need. Pray that your Son, Our Lord, will bless all who work in support of Good Shepherd, as well all those who come to Good Shepherd seeking assistance. May Good Shepherd be a constant source of compassion, mercy, healing, and hope. Amen.
 These words illustrate the very special place Mary holds in our organization. She's a wonderful role model to us all, showing us how glorious unwavering faithfulness, devotion, humility, and purity can be. She's also our most essential depiction of a caring mother.
When we were creating the Ave Maria Chapel at Good Shepherd, the single image we wanted the most was a beautiful stained glass window depicting an expectant Mary. It's a unique image and not one we see very often, but wholly fitting with our mission.  During certain times of the day when the sun bursts through that image of Mary carrying our Savior in her womb, it's a stunning reminder of our mission and ministry. We're here for mothers. We're here for babies. We're here for families—just as Mary is here for us.
May God bless you all – and especially the mothers – this holiday weekend.