Easter: The Light that Follows Darkness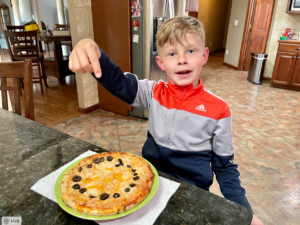 Happy Holy Week!
I am joyful this morning as I desperately try to wrap up my "to do" list before the holiday weekend. (I am sure you all can relate). Photos recently popped up on my phone that showed memories of the last two years of Easter. The COVID Easters! My kids' hair is long and out of control. They are wearing their soccer shorts and jammie shirts. There are no pastel colors to be seen and for sure no dress shoes on their feet. We had homemade pizzas for our Easter feast and, of course, chocolate. Then it struck me how big and beautiful their smiles are in those photos. Fancy clothes and big plans were replaced with a movie day and game night. In the darkness of a pandemic, time with my family demonstrated the hope and new life brought by Jesus's resurrection.
It is similar to the work we do at Good Shepherd. We are there with our clients as they face sometimes unimaginable personal struggle, then support them as they find the strength to create new lives for themselves and their children. We are there when new families are forged through personal sacrifice and selfless acceptance. We connect children with foster families that will give them the stability and care they need to thrive as they move forward. Pain and hope, challenge and triumph. We see beautiful, faith-affirming examples of God's love every day.
Easter is, in my opinion, the holiest day of the year. The message seems especially poignant during difficult times. This Good Friday, as we prayerfully remember Christ's most unconditionally loving gift to us all, let us be thankful for the Hope of the Resurrection that surrounds us.
I am blessed to share the mission and work of Good Shepherd. Happy Easter to you, your families, and the people we are honored to walk with each day.