Human Connection Is What Makes the Difference
This week's post is by Mike Whelan, Good Shepherd Development Director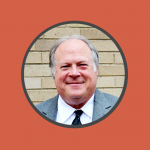 My son and daughter live in different parts of the country, but we stay close through phone calls and texts. We amused ourselves last week by creating a 2020 playlist: Donan picked "The Worst Day Since Yesterday" by Flogging Molly, Kathleen added "Change is Going to Come" by Sam Cooke, and I said "End of the World as We Know It" by R.E.M.
We had a good moment together laughing at our family's shared appreciation for dark humor, felt a sense of comfort and connection, and were reenergized to get back to whatever life may throw at us. I hung up and it hit me: This is very similar to how I experience the work I do with our Good Shepherd donors.
It's impossible to think of anything timely to say without the context of this year's crises. The pandemic has laid bare the vulnerabilities of the populations Good Shepherd serves. Society's renewed focus on racial injustice has highlighted the system that creates and enforces the challenges our clients face. And the economic crisis has left almost everyone questioning how their bottom line will be impacted.
I'm happy to tell you that just like Michael Stipe sang, I feel fine. Know why? Because donors are stepping forward to make sure Good Shepherd is equipped with what we need to care for others.
In the first months of this year, when the pandemic was beginning to show its teeth, three foundations called us directly to offer help. The Jefferson Foundation, The Tracy Family Foundation, and the Incarnate Word Foundation all reached out and fast-tracked the granting process. No complicated applications to complete. No long wait for a decision. Just support that proves they believe in our mission, trust in us to fulfill it in good faith, and affirmation of a personal connection that sustains us all.
We've also been blessed through our individual donors. Again, they have been calling us. Some were just checking in to say they're here for us and appreciate the work we do. But I think the call that touched me the most was from someone who was concerned about what was ahead with layoffs and restructuring at their company. In the midst of their own unsettled moment, they wanted us to know they were still committed to Good Shepherd. We worked together to manage their giving and lived a real example of how generous individuals will stand by us.
Finally, we had our golf tournament this week. Good Shepherd is not an organization that relies on a lot of events to generate funds – we're more of a handshake and a hug kind of place. The golf tournament this year was both. Julie Rudden from our team seamlessly managed the entire day, making sure everyone felt safe and comfortable. Rich Benkelman stepped up for the 13th year in a row to gather friends and lead the effort to make this day happen, no matter what. I was there to talk with attendees, who asked insightful questions about our clients and showed real concern for babies, mothers, and families.
My point for sharing these examples is to illustrate the importance of honest human connection. This year has shown us that we can be bound by faith, by blood, by geography, by thought – whatever it is, we can face the largest of challenges when we work together. It is a gift to spend my professional life fostering that connection between people and Good Shepherd. I'm thankful each day.
God Bless You,
Mike Whelan